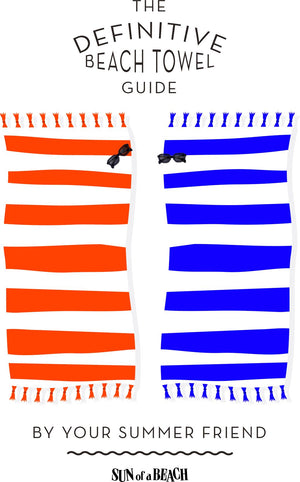 Everything you need to know,
before you buy a beach towel.
We bet you didn't know you actually needed a definitive beach towel guide. But, here we are and yes you do. We get asked a lot of questions on the regular, because, if anyone knows about beach towels, it's us, and we believe that a quality towel is an investment worth making. Why? Because a beach towel is not just an oversized bath towel or a simple barrier between you and the ground; it's a specially designed item specifically manufactured to offer the best possible experience by the sea or pool. Luxury beach towels are even more intricately constructed in terms of quality, form, function, and appearance. Plus, they're the ultimate summer fashion accessory that will accompany you on all your summer adventures. Here is everything you need to look out for when buying a beach towel for your next holiday.
Beach towel basics
"Why can't I just throw a bath towel in a bag and call it a beach day?" This is a legitimate question we hear a lot. I mean, we get it. A towel is a towel, right? Well, not exactly. Every item has its own specialized function. A kitchen towel is different than a hand towel and a face towel is different than a bath-mat towel. So, it goes without saying that a bath towel is different than a beach towel. But, why should you choose a high-quality beach towel over anything else? Let us count the ways:
1. Size
Size is probably the number one difference between a bath and beach towel, and yes, it matters. If you were to put one beside the other, you'd notice that the beach towel is considerably wider and longer than the bath towel. This is actually a very important characteristic, as you don't want half of your body touching the hot sand or rocks on the beach. Dimension wise, bath towels usually range from about 70cm x 130 cm (27 inches X 52 inches) to 80cm x 150cm (30 inches X 58 inches) while your average beach towel is about 80cm X 160cm (about 31 inches X 63 inches).
Even though all Sun of a Beach beach towels are generous when it comes to size, we created the stylish and extra-long Head 2 Toe designs at 100 x 180cm specifically for this purpose. A long towel can completely cover a lounge chair, as well as protect your feet from getting burned by the hot sand. It also means no more annoying wet sand sticking to your legs. All-day lounging never looked or felt so good! And because bigger is always better on the beach, we also created the Beach Blanket. Though, technically not a towel, it measures a generous 150cm x 200cm in size and is perfect for large families, couples who like to cuddle under the stars, hanging with friends, or for anyone who lives by the motto "sharing is caring". It's also great to have on vacations with babies and kids. Double-sided with a cotton canvas bottom and cotton poplin top, it can take the place of a play mat, which means your bags will be a little bit lighter, and it doesn't transport sand into the car as a normal towel would. So, in essence, choosing an item specifically designed for the beach ensures the comfort you need when hanging seaside from morning till night.
2. Thickness
A beach towel goes through a lot of wear and tear. It will be stepped on, exposed to the sun, and will function as a tanning bed, a makeshift cover-up, or even a blanket. It will also be exposed to salt water, chlorine, and will dry over and over again without being thoroughly rinsed. So, it's natural that, although we like our beach towels plush, fluffy, and super absorbent, they shouldn't be as thick as a luxury bath towel and they need to be super strong. This is where GSM, weave, and materials come in to play.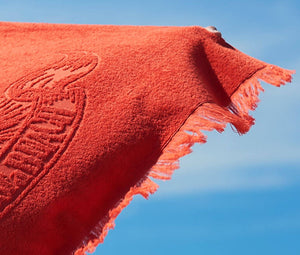 GSM
GSM basically stands for grams per square meter (g/m2). It's an industry standard measurement of a towel's density that refers to the weight of the fabric woven into a square meter and determines the thickness and plushness of different types of towels. Towels can vary anywhere between 300 GSM and 900 GSM. The lower the number, the lighter and thinner the towel:
300-400 GSM:
As mentioned above, a towel in this weight will be lighter and thinner and are best for the gym as it absorbs water and dries fast. A lightweight, quick-drying beach towel will most typically fall around 350 GSM. That sounds good, right? Well, depending on the weave and the quality of the material, a towel with a very low GSM may not be as durable and start to fray after only a few months of daily use.
400-600 GSM:
This is considered a medium weight and is the most common for beach towels, bath towels, etc. With every additional gram of weight, the towel becomes heavier and more absorbent. Again, it all depends on the materials and weave used, but a mid-range is preferable if you want a beach towel that absorbs water effectively and dries quickly.
600-900 GSM:
This category is considered a premium, luxury weight towel as it is plusher and more absorbent. Although it's wonderful for after a shower or a bath, a GSM at the higher end of the spectrum is not ideal for a beach towel, as it tends to attract more sand, takes much longer to dry, and is quite heavy.
So, which GSM weight is the perfect one for you? That depends. On the one hand, you want a nice, soft, fluffy beach towel that will feel good on your skin. However, choosing one that's too thick will make lounging on the beach uncomfortable as it is harder to clean from the sand, takes a long time to dry, and will feel heavy in your bag. That's why we recommend choosing something that's thick enough to guarantee comfort and absorbency, but thin enough to transport easily and dry quickly in the sun. For example, at 450 GSM, our Signature towels are super soft, absorb moisture quickly, and yet dry in a snap. Double-sided for extra absorbency and softness, these towels are made from 100% high-quality Egyptian cotton and cotton poplin fabric. On the other hand, our Feather towel has a GSM of 260 and is our most lightweight and versatile items. Despite its low GSM, this highly absorbent flat-woven towel is made from 100% Greek cotton and is extremely durable due to its special weave. So, in essence, you must look at all factors when buying a beach towel.
4.Appearance
Whether it's their texture, construction, or color, beach towels are created to complement the environment in which they will be used. The beach is bright, with the sun, the ocean, and even trees as backdrops and is the perfect place to express your personality boldly with rich colors and prints. It's basically a whole experience that you deserve to offer yourself. There is a beach towel for everyone, just have fun picking out the perfect one for you!
Classic stripes
For men and women, stripes are probably the easiest and chicest way to do summer in style. Whether you want to feel like you just landed in a Mediterranean wonderland, to embody the simple luxury of the South of France, indulge in the laidback aesthetic of a bohemian lifestyle or lose yourself in the minimal chic aesthetic of the Aegean islands, there is the perfect striped towel for it.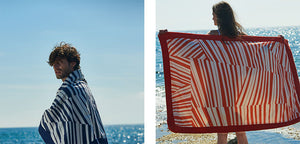 Tropical
There's nothing that feels more "beachy" than a lush, tropical design. We definitely embrace the more colorful side of summer, because there's always time for some fun in the sun. If you do as well, choose exotic prints that instantly transport you to faraway places with fiery sunsets, crystal clear waters, palm trees, and vibrant flowers that will have you dreaming of sipping fruity cocktails in paradise. Style them with your monochrome bathing suits, or embrace your maximalist side by adding some bold accessories.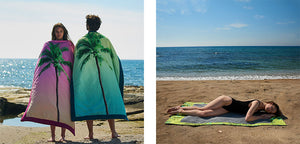 Graphic
Not that into tropical prints, but still appreciate a well-designed beach towel that is both functional and aesthetically appealing? Looking for something that will stand out in a sea of palm leaves, exotic flora, and pineapples? Then, you're in for a treat because the latest trends call for cool designs that resemble pieces of art. Intricate patterns, retro shapes, vintage illustrations, pop-art images, and edgy graphics stand out from the pack.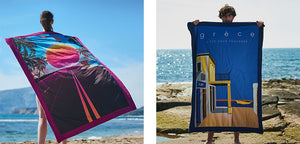 Animal print
We have a soft spot for animal prints. They can add a touch of glamour to any look. However, the past few seasons, animal print motifs have become more modern and fresh than ever by being teamed up with bright neon colors that give it a more punky, rebellious feel. Not for the faint of heart, these designs are dedicated to beachgoers who are serious about their fun. If you love animals, but aren't at all into animal prints, check out our WWF line that features endangered species of the Meditteranean. Ten percent of every sale goes to WWF Greece.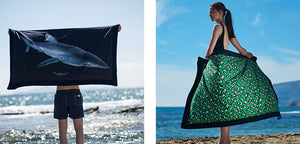 Monochrome
We obviously love striking prints, but there comes a time when simple and chic is all that is required for a polished beach look. A monochrome towel will never clash with your bathing suit, accessories, or even your location! Yes, that's a thing. Every destination has its own feel and style and your beach towel can reflect that, making you feel right at home wherever you are. Maybe you don't want to concern yourself with stains and love the darker colors such as olive, navy blue, or even black! For holiday style that won't go unnoticed, mix and match your monochrome towels or choose one color that will highlight your printed bathing suit and accessories.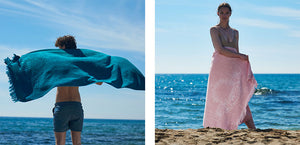 5.Function
As we mentioned earlier, every item has a purpose and must be constructed specifically for that purpose. Beach towels are no different. Carried around from morning to night, a beach towel is created to do many things and is manufactured so that it can be used in many different ways. It must hit that perfect balance in order to create a comfortable barrier between you and the ground (its main function), to absorb water, to dry quickly, become a makeshift sunshade blanket, or "changing room", and be light enough to be worn as a fashionable head wrap, a pareo, or shawl. All without allowing sand to stick to its fibers. Phew! That seems like a lot. If only a beach towel could talk… And that's why there are so many styles and shapes in the market.
When speaking about function, let's not forget the beach towel alternatives for babies, kids, and adults:
Babies and Kids
Special baby towels are a lifesaver for stressed parents on vacation. A baby's skin is extremely sensitive and prone to redness and itchiness when coming in contact with materials that are scratchy or not natural. Being at the beach only raises the level of discomfort due to the sea salt, the sun, the sand, and the heat. A soft towel, such as our hooded Baby Beach Towel, which is made from 100% Egyptian cotton, is a perfect choice as it will keep your baby cozy and warm after playing in the water, while the hood will protect their heads from the breeze and the sun. Light and loose, babies won't feel restricted in the summer heat. It's even double–sided with 100% cotton poplin on one side so you can flip it over and use it as a soft play mat. Perfect for a little tummy time and games between, or after, swims. They can even be used during bath-time, so you'll save space at home as well.
Older kids are picky too. They can't stand itchy materials and uncomfortable wet towels either and are much more vocal about their discomfort. That's why we made super fluffy and absorbent Kids Ponchos from 100% Egyptian cotton, with a 100% cotton poplin trim. This unique kids beach towel also has a hoodie, which will keep your little ones warm in terms of temperature and cool in terms of style. Dressed in our playful, colorful prints, you won't have any difficulty getting your kids to wear them after a swim. Plus, they are made from materials of exceptional quality that make them very durable, so they can handle endless hours of play, year after year. Happy faces for all!
Extra tip: We know how possessive kids can be about their things; each having their own designated towel/poncho will help keep the peace when tempers are high. It's also healthier; when towels are used interchangeably between family members, you run the risk of bacteria and viruses spreading.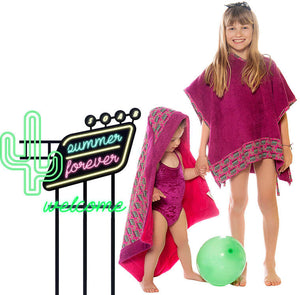 Hoodies and Vests
If you want something different that will function like a towel, as well as a cover-up, you can always choose a hoodie or vest towel. Usually made from the same materials as a beach towel, they are absorbent, dry quickly, and are super soft. The only difference is their design, as they can be worn as a cover-up. Not only does this save you space by not having to lug a large towel and extra clothes around, they actually look super nice. That's why we created two versions. Our Beach Hoodie is the perfect summer staple. Wear it over a wet bikini to feel warm and relaxed after a long swim or water sports session, or to just look cool! Made from 100% Egyptian cotton, it features a printed cotton poplin trim and two handy pockets on the front. Then there is our Lolita Vest. Super soft, fluffy, airy, it's our stylish alternative to the beach dress or T-shirt. Just like our Beach hoodie, it's made from 100% Egyptian cotton and has handy pockets on both sides. It's everything you want in a cover-up for fresh looks on and off the beach.
Extra tip: Be creative and wear our Lolita Vest with a pair of denim shorts at the beach bar, use it as a cover-up for long walks along the seashore, or style it for a night out in the town. You never know when you'll be inspired to take a quick dip under the moonlight!
What's the best material?
Now that we covered the basic characteristics of a beach towel, let's consider the different materials beach towels are made from. Choosing one fabric or blend over another always has its pros and cons and in the end, it depends on what will ultimately feel good to you. For example, cotton is soft and comfortable, but may stay wet longer, while microfiber materials dry quicker but not feel as luxuriant or comfortable. Although there are many options out there, let's cover the basics.
Cotton
There is no doubt that towels made from 100% natural cotton are the best. They are soft, fluffy, absorbent, and dry quickly. Absorbency and ability to dry quickly are both key factors as your beach towel will get wet and be laid out to dry many times over a short period of time; basically, as long as you're on the beach and even on a daily basis if you're on vacation or live near the ocean. The quicker the towel dries, the faster you'll also be able to shake off the sand and put it in your beach bag. The only downside is that regular cotton towels tend to show signs of fraying much faster than Egyptian and Turkish cotton towels.
Egyptian cotton
This type of cotton comes from a different type of cotton plant, and is considered higher quality because of its extra-long fibers and high absorbency. Egyptian cotton is handpicked, which means that less stress is placed on the fibers, leaving them straight and intact. As a result, these fibers make it possible to make very fine threads without sacrificing length, strength, flexibility or softness, unlike regular cotton which has more splices. As they are not picked by machines, the fibers are also more resistant and, with proper care, have a very long life span. They are also quite porous, allowing for air to pass through, avoiding stuffy smells and mold. Its superior luxuriant feel and quality make it the top pick for luxury hotels and spas. For an ideal balance, combine 100% Egyptian cotton with a mid GSM.
Turkish cotton
This premium cotton is very similar to Egyptian cotton, as it has extra-long fibers. Grown in the Turkish region, towels made from this cotton are soft, luxurious, absorbent, and light, though are not considered quite as superior as the Egyptian alternative. This is because, although it has tough strands, they are not quite as long or as smooth. However, when you hear "Turkish towels", it's likely that they're not so much referring to the type of cotton, but to the Hammam style towels which are woven on looms and are super light.
Microfibers
Making headways as a newer alternative are microfiber towels. Manufactured from manmade fibers (typically from a polyester and polyamide blend), the ends are split making them extremely absorbent and capable of drying faster than any other type of towel. They are also more durable than natural fibers, very lightweight, and become very compact when folded, making them an easy option when traveling. Though higher-tech blends make for a soft towel, they don't feel as luxurious or comfortable as cotton towels and definitely don't look as stylish.
Of course, there are many types of towels on the market that are made from a wide range of materials; from hemp and bamboo to Pima and modal, but the ones mentioned above are the most popular.
Pros
Soft,
Absorbent,
Dries Easily
Pros
Luxurious,
Fluffy,
Absorbent,
Dres Esily,
Durable
Pros
Light,
Absorbent,
Dries Easliy,
Durable
Pros
Light,
Absorbent,
Compact
when
folded
Cons
Not natural,
Less luxurious,
Not Plish
Why are weave and yarn-type important?
We can confidently say that cotton is the best material and that a mid-range GSM is ideal for a beach towel. However, other factors that affect absorbency, softness, and durability are the weave and yarn-type.
Ringspun & combed
Towels are woven in different ways and as a result, have a different feel. Standard cotton spinning is the least expensive process that usually creates products with a rougher finish. That's why we prefer ringspun cotton, as it feels nicer and lasts longer. Ringspun cotton is basically an extra step in the manufacturing process where the cotton is twisted and thinned, making it very fine, smooth, soft, and much more durable than their regular counterparts.
Combing the cotton adds another layer of quality. Combing each fiber creates a more uniform and smooth material as it removes impurities and short fibers, which tend to break. After the combing process, the fibers join together more tightly, which leads to less fraying and produces a noticeably smoother and softer product. Just try wearing a cheap regular cotton T-shirt compared to a combed cotton T-shirt and you'll instantly feel the difference.
Here at Sun of a Beach, we use both techniques to produce the best beach towel.
Carded Cotton
Carded yarn is a cotton yarn that hasn't been combed. It has various fiber lengths, which results in a coarser feel. Carded cotton is cheaper to produce.
Combed Cotton
Combed cotton is more uniform and smooth as impurities and short fibers have been removed. Fibers are joined together more tightly, which leads to less fraying.
Open-Ended Yarn
This type of cotton yarn is thicker with loosely bound fibers. Open-ended yarn is bulkier and fuzzier than ringspun as it has an uneven knit, creating a rougher fabric.
Ringspun
Ringspun cotton is an extra step in the manufacturing process where the cotton is twisted and thinned. This makes a very fine, smooth, soft, and more durable fabric.
Single yarn vs. double yarn
Whether a single or double yarn is used, will affect the feel and absorbency of a towel, regardless of the type of cotton it may be made from. Though both make for an absorbent towel, we prefer single yarns for ours as it makes them lighter and capable of drying faster. Sand can be shaken off easier as well, as there aren't so many crevices to get stuck in. Bath towels, which are typically given a longer time to dry between showers, tend to use double yarn.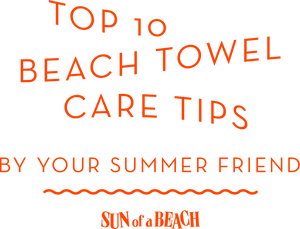 You have chosen the most beautiful and functional towels and now it's time to properly take care of them to maintain their softness, appearance, as well as make them last for years.
Always wash your new towels before their first use. We even include special reminders so that our customers don't forget. It's THAT important. Typically, manufacturers often treat towels with fabric softeners to make them soft, but this limits their absorbency. They may have been exposed to other chemicals during the manufacturing process as well, and you don't want that on your skin! Also, as they are usually shipped to distributors and customers tightly in vacuum packages, the compression removes the feel and fluffiness and the experience won't be as enjoyable.
Shake off or vacuum any extra sand or debris stuck in its fibers before putting your towels in the wash. As an extra step, fill a basin with water and swirl your towel around so that any sand in the material will float to the bottom. Then, place it into the washing machine. This will ensure a better wash and will protect your machine.
Check the care label in order to wash them at the correct temperature. Typically, colorful printed beach towels should be set between 30 and 40 degrees depending on how dirty they are. Cotton towels can be set to an even higher setting once in a while.
Add vinegar to the wash cycle as a natural way to maintain softness. All you need is a cup or half a cup of white vinegar in the softener compartment of your washing machine every six weeks (more often depending on use) to keep towels soft, absorbent, and looking amazing. Don't worry, they won't end up smelling like a salad!
Don't hand-wash your towels. Hand-washing doesn't get rid of debris, bacteria, and mildew properly. Plus, heavy beach towels retain a lot of water and are difficult to wring out. As a result, their colors might leak while drying and they will become very stiff instead of fluffy.
Add a half a cup of baking soda to your wash. Not only will it get rid of detergent build-up that can make towels feel stiff, but also eliminate any musty smells.
Keep light and dark colors separate. Although most beach towels are designed to be colorfast due to the fact that they come in contact with water often, it's still important to wash similar items together. That way, you'll protect your towels and the other items in the wash.
Avoid chlorine bleach at all costs. This may go without saying, but we'll say it anyway. We know chlorine is a great stain remover, but it can seriously damage the towel's fibers by weakening them and of course, ruin the towel's beautiful colors and prints. Instead, spot-treat stains with a commercial stain remover (find one for specific types of stains, such as oil, blood, ink, etc.) or with a dab of laundry detergent. Rub gently with water and let soak for 20-30 minutes. Repeat if necessary and then put it in the wash.
Throw your beach (and bath) towels in the dryer to achieve maximum fluffiness. Here in Greece, we have such great weather, that we tend to air-dry our clothes and towels all year round. However, when it comes to beach (and bath) towels, there's nothing like throwing them in a dryer to get them super fluffy and soft.
Do it the eco way. If you don't have a dryer, air-dry your towels, but first shake them vigorously to fluff them up. Also, don't hang them in direct sunlight (they get enough sun at the beach), otherwise the colors may fade.