Beach Bags: The complete guide
It's no secret that we love the beach. We've even made a living out of it! The idea of spending an entire day, or even a few hours, swimming in the cool ocean and gathering energy from the sun's rays is enough to make us giddy. That's why we always keep our beach bags locked and loaded for when the opportunity strikes. And just to be clear, as experts in all-things beach, we don't throw our things in just any bag. Here's why.
Beach Bag: An essential item
Whether you surf on the daily or go to the beach only a few times a year, a beach bag is an essential item to have in your accessories arsenal. Why won't just any bag do? It all comes down to function and durability. Beach bags have a very specific job and that's to carry and safeguard your personal items from the elements and look good while doing it. Your phone, sunscreen, towels, electronics, change of clothes, beach reads, etc., are very important to you and not only do they all have to fit in one place (or two) for easy transport, they also need to be properly protected from the water, sun and sand.
There's nothing worse than going to the beach and realizing you've brought a bag that doesn't quite fit everything, is too big and clunky for longer beach explorations or is made from a material that damages easily. A day at the beach is supposed to be laid-back and carefree. Worrying about your belongings or bag is not the way to achieve this. So, what should you look for in a beach bag to ensure your peace of mind? Let's dive deeper.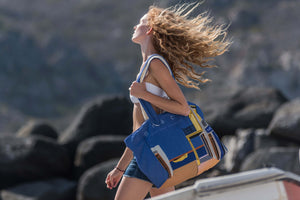 1. Material
The number one feature you should look for in a beach bag is its material. Remember, there isn't one perfect choice for everyone because it depends on what suits your specific needs and plans for the day. Laying on a chaise lounge by the pool is different than sunbathing on the beach or exploring caves. Here are the pros and cons of 3 of the most common beach bag types.
Cotton:
Natural cotton is probably the most popular beach bag material as it is soft and won't chafe your exposed skin when it rubs against you. It's also lightweight, dries easily and is machine-washable, which results in a longer lifespan. This means that you won't have to worry about mold, sand or coffee accidents to get in the way of your fun. A cotton beach bag also makes a comfortable makeshift pillow (we do that all the time)! Our multi-use Polybag from the Sun of a Beach Tote collection is a perfect example of a light and supple option. With a 100% cotton canvas interior, shaking off debris is easy, while its 100% Egyptian cotton towel exterior feels great against your skin. It's also extremely durable and can be washed in the washing machine. No wonder it's one of our best-sellers! However, natural cotton requires some care to maintain color vibrancy; avoid harsh detergents and chlorine so they won't fade and fibers won't fray.
Straw:
Straw is a classic material for bag making. It also looks very chic, reminiscent of Brigitte Bardot circa 1956 in St. Tropez; a timeless image that we love. These days, however, we save our straw bags for shopping, a day at the park or a Roman holiday à la Audrey Hepburn, for two very important reasons. First, straw bags can't take the harsh conditions of a day at the beach. The woven straw can easily break if caught on something and too much exposure to the sun and water make the fibers weak over time. Second, straw beach bags are difficult to keep clean. Sand easily penetrates the little holes in the weave and is hard to shake out afterward. They also require a gentle and time-consuming cleaning process and can't simply be thrown into the washing machine.
Synthetic:
Synthetic materials are a practical choice for a day at the beach. For example, mesh beach bags are usually made of nylon or polyester, which makes them very light and thin, yet strong. They are also water-resistant and can be cleaned easily since the sand easily falls through the mesh weave. On the other hand, sand and water can just as easily get in the little holes and though you can shake off and dry the bag, it will be harder to do the same for your book, phone or clothes inside it. Different types of polymers, such as rubber and plastic are frequently used as well due to their lightweight and waterproof characteristics. However, they don't feel good against the skin and tend to heat up quite a bit when left in the sun. They also don't look as stylish as natural materials.
2. features
Not all beach bags are created equal. Below are the top features to look for when deciding on the best beach bag for you.
Durability:
Cheap, poorly made beach bags and totes can pretty much be found everywhere. They may last you for one, maybe two seasons if you're lucky, as the materials and construction of these items are of lower quality to have a quick and easy turnout. If you are a frequent beachgoer, their lifespan is even smaller. This is especially true with family vacations. You leave the beach not only with the added weight of your wet towels, but also the rocks little ones just love to collect! So, a good quality beach bag with strong handles and reinforced stitching is a must if you want something that not only looks good but will also last many vacations to come. Don't believe us? Maybe our Tote Beach Bags will convince you. These multi-use bags are made from printed cotton canvas and are lined with 100% Egyptian cotton towel. Light, but sturdy, they have plenty of room for two large towels, such as our Signature and Head 2 Toe beach towels, as well as other beach essentials. They can also be flat packed for easy storage and packing.
Comfort:
We talk a lot about comfort when it comes to our towels, but why would someone consider comfort when buying a beach bag? This feature is often overlooked when it comes to bags but can greatly affect how you experience a day at the beach. When heading out for a swim, we're usually wearing a bathing suit, shorts and maybe a tank top or T-shirt, so your skin is exposed. Now, imagine a heavy bag made out of plastic or some rough material rubbing against you while wandering the beach looking for the perfect spot. The plastic one will make you sweaty and the rough one can cause irritation. Not a good look! You'll most likely be carrying other things as well, such as a folding chair or a cooler and your bag will be hanging from your shoulder or wrist without any extra support. Therefore, the straps need to be soft, as well as wide enough to withstand the weight without causing pain. Both our Tote Beach Bags and Oversized Beach Bags are made from 100% cotton and feature wide, strong, comfortable straps.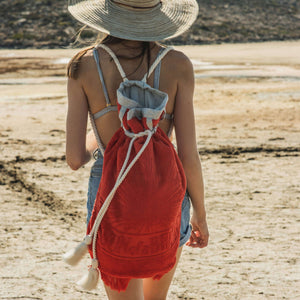 Useful details:
A large bag is ideal for a long day at the beach, especially if it's with the whole family. You can throw in just about anything, which is wonderful but could be frustrating when you're digging through all the stuff to find smaller items, such as your phone, wallet, glasses or pen. That's why an inner pocket or compartment is a nice feature to have. Not only will you keep smaller, valuable items within reach, you'll also be able to protect them, lowering the risk of damage and loss. Our Tote Beach Bag has an open pocket for easy access, while our Oversized Beach Bag has a zippered pocket. Extra tip: Reserve pockets for the things you reach for most often.
Style:
For us, perfection is when functionality meets beauty. It's no surprise then that the whole concept behind Sun of a Beach was to create premium beach towels of exceptional quality that are comfortable and look amazing. This vision goes for accessories as well. And if you think about it, your beach bag is the first thing people see when you go for a swim, therefore, it should be just as fashionable as your favorite beach towel or bathing suit. For our collections, we've focused on rich colors and bold prints that stand out from the pack and capture the essence of summer. We even have designs that are walking pieces of art! Choose whichever one expresses your personality and mood.
Modern elegance:
Featuring nautical stripes, vintage illustrations and edgy graphics, our Mediterraneo collection is inspired by the beautiful Greek islands and cosmopolitan Mediterranean locales. Whether you want to embody the simple luxury of the South of France, indulge in the laidback aesthetic of a bohemian lifestyle or lose yourself in the minimal chic aesthetic of the Aegean islands, we have the perfect beach bag for it. Don't forget to also check out our WWF line that highlights endangered species of the Meditteranean. Ten percent of every sale goes to WWF Greece.
Tip: Stripes are the easiest and chicest way for both men and women to do summer in style.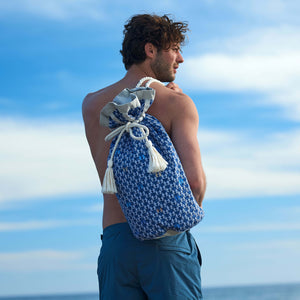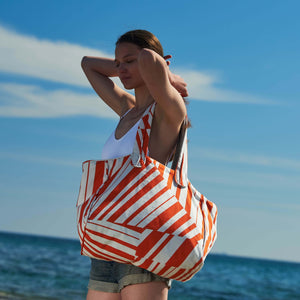 Tropical beauty:
We embrace the more colorful side of summer because there's always time for some fun in the sun. If you do as well, choose a beach bag from our Tropicana line which features retro shapes, pop-art images and exotic prints that instantly transport you to faraway places with fiery sunsets, crystal clear waters, palm trees and vibrant flowers. There's nothing that feels more "beachy" than a lush, tropical design. They'll have you dreaming of fruity cocktails in paradise!
For a more rock-star-sipping-a-pina-colada-by-the-pool vibe, you can even go with bold animal prints in bright neon colors.
Tip: Style your tropical beach bag with a monochrome bathing suit or embrace your maximalist side by pairing it with other bold accessories.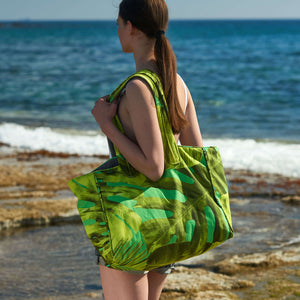 Simple & chic:
Not into prints but still want to stand out from the crowd? Our Monochrome Beach Bags are perfect for when you want to add a pop of color to your neutral summer basics. A monochrome beach bag will never clash with your bathing suit, towel, or even your location! Yes, that's a thing. Every destination has its own feel and style and your beach gear can reflect that, making you feel right at home wherever you are. You'll even find unconventional darker colors such as olive, navy blue and black so you won't concern yourself with stains.
Tip: Create bold total monochrome beach looks or choose one color that will highlight your printed bathing suit or beach towel.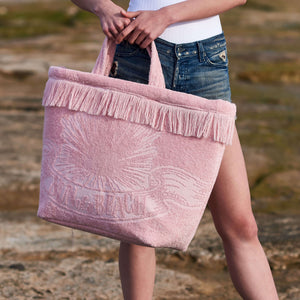 Size
Though most beach bags tend to be large, no one size fits all. It depends on what your plan for the day is and how you want your beach bag to accommodate that plan. For some, this means having something simple and light for a long walk or hike at the beach. For others, a large capacity is a top priority so that they can fit everything they need for all-day seaside lounging. Here are some basic options.
Oversized:
Family vacations require BIG solutions. Measuring 45cm high with a rounded structured rectangular base measuring 40cm long, the Oversized Beach Bag is perfect for dads and moms who need to carry everything and the kitchen sink! Multiple towels, toys, snacks, sunscreen, ointments, water… you name it, it fits! Or maybe you're just one of those people who feel like they can never be too prepared or who don't want to cramp their style by carrying around a boring cooler bag and need something to keep it out of sight. Whatever your motivation, you'll love its solid structure, spaciousness, soft fringed towel exterior and printed canvas interior.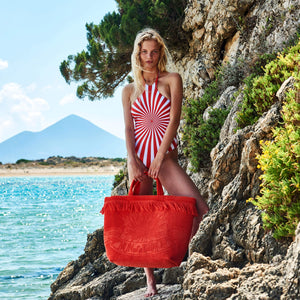 Tote:
Tote Beach Bags are smaller in size than the oversized beach bag, but still large enough to hold a book, sunglasses, bottle of water, a large towel, sunscreen and a change of clothes without weighing you down too much. Its extra-long handles also make it easy to carry, even when things are overflowing over the top! If you love color and prints, discover our canvas designs featuring beautiful Sun of a Beach patterns and a soft cotton towel interior. Looking for a specific bold color? Our fringed cotton towel Monochrome Tote Bags hit just the right balance between bohemian and chic.
Backpack:
Not interested in a traditional beach bag? We have you covered there as well. Part beach bag, part backpack, our Beach Packs are perfect for anyone planning a weekend adventure of exploring secluded beaches and want to keep their hands free. This bag is also a great lightweight option if you're searching for a stylish men's beach bag. The Beach Pack is made of 100% Egyptian cotton towel and 100% cotton canvas. You can wear it on one or both shoulders or across the body like a messenger bag. It has an interior pocket for valuables and is roomy enough to fit a towel, a pair of flats, and a change of clothes for the beach party! Just choose between patterned canvas and monochrome fluffy towel.
Another one of our backpack designs is the Back Pack. Lightweight and medium-sized, it's roomy enough to hold all of your essentials but not so big as to weigh you down. Made from 100% cotton canvas, the Back Pack showcases some of our most stylish Tropicana and Mediterraneo patterns making it a wonderful pick for a quick visit to the ocean and coffee with friends on the island or in the city. It features a large zippered pocket on the back to keep valuables handy and adjustable straps that allow you to carry it as a backpack or on the shoulder. Just like the Beach Pack, the Back Pack can be flat packed for easy storage.

Beach Bag Check-List
Clothes / Accessories
Flip flops
Beach towel
Cover-up or Feather Towel
Water shoes
Hat
Sunglasses
Underwear
Extra change of clothes
Waterproof Pouch
Beach towel clips
Essentials
Mobile phone
House / car keys
Wallet
Reading glasses
Portable charger
Tissues
Water bottle
Snacks
Toiletries
Sunscreen for face
Sunscreen for body
Sunscreen for hair
Lip balm with SPF
Facial mist
Hairbrush
Hair accessories
Small first-aid kit
Insect repellent
After-sun cream
Entertainment
Reading material
Bluetooth speaker
Earbuds / headphones
Tablet
Toys, i.e. buckets, shovels, goggles
DOWNLOAD THE CHECK-LIST
Before you pack your beach bag, ask yourself the following: 1. How long will I be staying at the beach?
Not every beach day is the same. If you are going for only a short time, you won't need as many things as you would if you made a day of it. However, always keep in mind that plans may change and one hour may lead to five!
2. Will there be stores close by?
Always keep in mind where you'll be. If you're going to a beach that has stores close by, you don't have to worry too much about drinks and snacks. Even if you forget something, like sunscreen or a hat, you can always walk into a shop and get what you need. However, if you're planning on spending the day at a more secluded locale, you need to make sure that you have water, something to eat and plenty of protection.
3. What do I plan on doing?
The activities you will be doing will determine what you'll need to bring with you. For example, are you planning on spending the day playing water sports? Don't forget to bring a higher SPF. Relaxing with a good book? Make sure you pack your reading glasses! Meeting friends at the beach bar? Include a change of clothes, a hairbrush and a smaller bag.
4. Who will I be going with?
A day at the beach as a group of friends will look very different than a day at the beach as a family with small kids. Think about what kind of needs may arise. Will you be listening to music? Bring a wireless speaker. Building castles in the sand? Bring a first-aid kit with ointments that will soothe bites from bugs or jellyfish.
How to pack a Beach Bag
When packing a beach bag you want to maximize the space as much as possible so that everything you want can fit and you'll have easy access to the things you use the most. You also don't want to crush your snacks and sandwiches!
First, place heavy, flat items like books and magazines on the bottom of your beach bag. Then, place your towels, clothes, shoes, pouches, etc. and follow with snacks and drinks. Finally, add sunglasses, sunscreen, swim goggles and other such items. Keep electronics, keys, reading glasses, money and anything else of importance, in your bag's inner pocket or a separate waterproof pouch.
Extra tip: We've all heard the suitcase packing rule that dictates rolling your clothes instead of folding them to maximize space. The same applies to beach bags. Roll your towels and clothes and place them on the bottom of your bag after books and magazines.
5 Top hacks
We love a good hack. Here are five we live by!
1. Protect electronics:
If you're planning on bringing electronics, like your phone or Mac Book to the beach, avoid getting them wet or scratched by keeping them safe in our Holiday Pochette. An absolute must for vacationers, it has a cotton canvas shell adorned with key Sun of a Beach motifs and a waterproof lining that can be wiped clean. You can even use it in the winter as a makeup case.
2. Store wet items separately
When it's time to go home, many people wrap their wet bathing suit in a beach towel so that it doesn't touch anything else in the bag. Instead, always keep your waterproof pouch handy and store any wet items in there. It's a good place to store your sunscreen as well so that it doesn't get all over your towels and clothes if it ends up leaking (it's happened to us). You can thank us later.
3. Keep valuables close by
You're at the beach and want to get a drink from the bar, but all your friends are swimming. What do you do? Leave all your stuff and risk them getting stolen or carry your heavy beach bag with you? Neither. Store your most important belongings (money, credit cards, phone, etc.) in a smaller travel pouch so that you don't have to carry your big beach bag everywhere you go.
4. Never forget your essentials
There are just certain items you always want to have with you no matter where you are, whether it's the beach, the supermarket or a coffee shop. Make transferring your essentials from your day bag to your beach bag easy by keeping them stashed in our Passepartout Pouch at all times. Small but mighty, it features a soft cotton towel interior and striking printed exterior.
5. Go from sunbathing to cocktail hour
You never know when a day by the sea will lead to cocktails at the beach bar, so don't forget to keep our stylish chic Envelope Pouch in your beach bag. This elegant item looks equally at home by the sea as in the city. Stash a light lipstick and a small bottle of face mist in it for a quick touch-up and match it with our Lolita Vest.
You have chosen the most beautiful and functional cotton beach bag, and now it's time to properly take care of it to maintain its appearance and have it last for years.
washing
~ Thoroughly clean your bag whenever it comes in contact with salt water or water from the pool. If salt or chlorine is left on the bag, the fibers may start to fray and the colors will fade. Salt water can also cause bacteria to grow, creating mold over time.
~ Shake off or vacuum any extra sand or debris stuck in its fibers before putting your beach bag in the wash. As an extra step, fill a basin with water and swirl your bag around so that any sand in the material will float to the bottom. Then, place it into the washing machine. This will ensure a better wash and will protect your machine.
~ Check the care label to wash your bags at the correct temperature. Typically, colorful printed beach bags should be set at 30oC.
~ Add vinegar to the wash cycle as a natural way to maintain softness, just like you would with your cotton beach towels. All you need is a cup or half a cup of white vinegar in the softener compartment of your washing machine to keep the fabric on our beach bags soft and looking amazing.
~ Don't place them in direct sunlight to dry (they get enough sun at the beach); otherwise, the colors may fade.
~ Wash our Oversized Beach Bag by hand instead of in the washing machine, so it doesn't lose its structured rectangular shape. After shaking off the sand and other debris, submerge it in warm water to release trapped particles and remove the salt. Then, use a sponge and soapy water to gently wash it. Rinse thoroughly and leave to completely dry before using again.
~ Spot-treat stains with a commercial stain remover (find one for specific types of stains, such as oil, blood, ink, etc.) or with a dab of laundry detergent. Rub gently with water and let soak for 20-30 minutes. Repeat if necessary and then put it in the wash.
~ Don't throw your beach bag in the dryer. Even the low-heat setting may cause shrinkage. Instead, allow it to air dry to retain its original size and shape.
~ Remove any wrinkles before air drying by laying it on a flat surface and reshaping it with your hands. If that doesn't work, go over it with an iron on low to medium heat. Don't forget to do the same for the handles.
storage
~ Thoroughly clean your beach bag before you store it. Even if you wash your bag in the washing machine, there still may be sand stuck in its lining. Use a lint roller to pick up any remaining debris.
~ Prop sturdier large beach bags, like our Oversized Beach Bag upright on a shelf to preserve its shape without distorting the handles.
~ Stuff sturdier bags with tissue paper, bubble wrap or older, but clean, T-shirts to keep its shape. Never use newspaper! The ink will stain your bag and make it smell.
~ Never hang your beach bag from its handles. Our Tote Beach Bags and Beach Packs lay flat for easy storage.
~ Store handles inside the bag if storing flat. Make sure they are not twisted or folded in any way.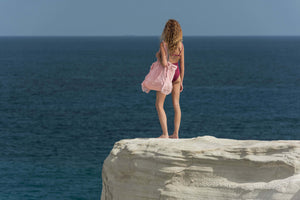 Before the 1920s, women's bags were used indoors only. As women became more socially active and independent in the 1920s, handbags started to be carried outside the home and evolved from a practical item to a fashion accessory that fit only small things like coins, a lipstick, a handkerchief and maybe some face powder. Handbags didn't have straps until 1929 when Coco Chanel, fed up with the inconvenience of holding a bag in her hand all the time, made waves by introducing a chain shoulder strap, which was inspired by military messenger bags. In the 1930s, travel became more accessible and women needed a casual and larger option when holidaying in sunny climates. A new type of bag was then created, made from fabric with rope handles to match women's "play" clothes and bathing suits. They were much larger than fashionable day-bags to accommodate a change of clothes, shoes, a hat, sunglasses and whatever one would need for a day at the beach. Voilà, the beach bag was born.